Goudkoorts of: hoe ik dacht rijk te worden in de Australische outback

Goudkoorts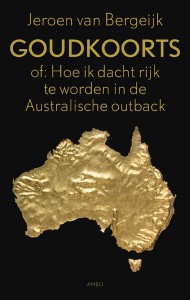 Mijn nieuwe boek is uit. Het heet: Goudkoorts of: Hoe ik dacht rijk te worden in de Australische outback. Koop het online bij bol.com.
Het lijkt zo eenvoudig: je koopt een metaaldetector, trekt ermee door de legendarische goudvelden van Australië en de kans is groot dat je met een paar vette goudklompen thuiskomt. Dat lijkt armlastige schrijver Jeroen van Bergeijk wel wat. In de nasleep van de financiële crisis heeft hij zijn spaargeld zien verdampen en de goudprijs zien stijgen. De auteur laat zich down under omscholen tot goudzoeker. Hij trekt vol goede moed de outback in en strijkt neer in het gehucht Ora Banda, inwonertal: 7.
Al snel blijkt dat goud zoeken en goud vinden twee verschillende dingen zijn. Bovendien lijkt achter de joviale, no worriesmentaliteit een duistere wereld schuil te gaan. Een wereld waarin bedrog, paranoia, hebzucht en racisme welig tieren. 'Gold does funny things to people,' zoals het gezegde luidt. Hoe langer Van Bergeijk in Ora Banda blijft, hoe meer hij bevangen wordt door… goudkoorts.
Meer over de avonturen van Jeroen,vindt u hier.



--------------------------------------------------------------
Garrett Ace 250 Detector Amateur vind Keltische goudschat in Scotland
Milionair worden kan nog steeds , ga zoeken met de beroemde Garrett Ace 250 , en vind net als David Booth uit Scotland meer dan 1.6 miljoen pond door even een middag zoeken met de Garrett ace 250.
Deze zeer zeldzame gouden Keltische schatvondst van 4 gouden hals colliers is uniek in de wereld , en kan
volgens deskundigen minimaal 1.6 miljoen pond , maar ook wel 10 keer zoveel opbrengen 16 miljoen pond
als het op een veiling zou worden verkocht

Deze Garrett Ace 250 kost 265 euro , inc hoofdtelefoon - instr dvd - batterijen - ned gebruiksaanwijzing en 2 jaar garantie.



Treasure hunter David Booth yesterday told of his fabulous £1.6million find on his first ever outing with a metal detector.
The 35-year-old safari park keeper unearthed four stunning gold necklaces just seven paces from where he'd parked his car as he set out with his new £240 detector.
The 2000-year-old jewellery he dug up from a Stirlingshire field is now officially Treasure Trove and David set to receive a huge reward based on its market value.
And he revealed partner Carolyn Morrison, 28, is due to give birth to their first child in February - when he's likely to get his windfall.
David, the assistant manager at Blair Drummond Safari Park near Stirling, said: "I drove my car to a field, parked in it, took my metal detector out, and started looking. I just had a feeling about where to park the car.
"It flashed to indicate that I had found gold about seven paces away from the car and I started digging with a garden spade and trowel I'd brought.
"Six or eight inches down, I saw a glimpse of one of them, then uncovered the rest of the hoard.They were in a wee group.
"I was completely stunned - there was total disbelief."
David bought the detector online just five days before his discovery on September 29. He said he'd practised on knives, forks and watches on his carpet at home.
At the National Museum of Scotland in Edinburgh yesterday, he revealed: "I'd always fancied buying a metal detector and this was the first time I'd taken it outdoors. I knew the area I was looking in had some iron age history as I'd done some research online.
"But the reason I chose that particular field was simply because the landowner had given me permission.
"I took the items home, showed Carolyn and cleaned them under the tap. Her reaction was I couldn't be so lucky.
"I sent an email with photographs of the torcs to the National Museum of Scotland that day. They were at the house the next morning."
David added: "I've no clue how much this lot is worth. People are talking about a million pounds and that would be lovely.
"Carolyn is expecting our first child in February so any money will definitely come in handy - and it would be nice just to pay off the Ford Focus.
"People have said I might as well throw away the metal detector now, but I'll keep on going, there might be other stuff out there.
"It's a good hobby and it gets you out in the fresh air."
The Record revealed on Tuesday how David stood to make a fortune from his discovery.
Experts said the hoard was of "international significance", showing the wealth and connections of people in Scotland at the time.
The exact location of the find is being kept secret to stop it being swamped by other metal-detecting fans.
The collection consists of two torcs, a local style of jewellery made from a twisted ribbon of gold, half an ornate torc of southern French origin and a unique braided gold wire torc which shows influences of Mediterranean craftsmanship.
They are currently under lock and key at Scotland's Treasure Trove unit, an independent body based at the National Museum of Scotland.
The unit, along with a team from National Museums Scotland, are now continuing to excavate the site and analyse the find.
Under Scots common law, treasure finds automatically belong to the Crown . Hoards are independently valued and the finder usually gets a sum based on their market value.
The Scottish Archaeological Finds Allocation Panel will value the hoard in February. A similar band found in Newark, Nottinghamshire, in 2005 sold for £350,000.
Dr David Caldwell of the Treasure Trove unit said the torcs would stay in Scotland.
He said: "You couldn't make this story up.
There hasn't been a find like this in Scotland for over 100 years. There are a lot of metal detector users in Scotland and, over the years, we've built up good relations with individuals.
"Most go out because they have a fascination with history. It's important they get good rewards for their finds.
"There's nothing written in law that says there has be a reward, but invariably it would be equal to the market value."
Dr Fraser Hunter, principal curator for Iron age and Roman collections at the National Museums of Scotland , said he "almost fell off my seat" when he saw the items.
He said: "The archaeological value is indescribable. It's one of the most important hoards from Scotland ever and a find of international importance."
Dr Hunter supervised excavations at David's site and said the torcs had been buried under the floor of an iron age building.
The find was said to be the most significant in Scotland since 1857 when two gold torcs were found on farmland in Morayshire.
------------------------------------------------------------------------------------------------
Zeldzame goudgulden 1574 gevonden met de Garrett Ace 150
Ook met een goedkopere digitale metaaldetector kunt u een topvondst vinden. Onlangs vonden deze vader
en zoon met hun Garrett Ace 150 op een weiland een zeldzame goudgulden uit 1574 van Edzard II and Joham
uit Duitsland , deze heerser regeerde van 1566 tot 1591 , in die periode zijn er zijn er van hem 3 gouden
munten uitgegeven , waaronder deze zeldzame uit 1574 , die een waarde vertegenwoordigd van duizenden
euro's. De vinder houd hem in zijn eigen verzameling .
----------------------------------------------------------------------------------------------------
Wederom een topvondst in Friesland.
Henk Batstra uit Lemmer had pas 1 week zijn nieuwe metaaldetector,de Teknetics Gamma,toen hij een zeer zeldzame gouden Viking ring vond.
Een prachtige eeuwenoude ring van 5 gram massief goud met een diameter van 20mm. Henk heeft de ring meteen aangemeld en deskundigen zijn momenteel druk in de weer om de ring te determineren.
De schatting van deze ring ligt rond de 30.000 euro!
Henk van harte gefeliciteerd met deze supervondst!
----------------------------------------------------------------------------------------------------------
Topvondst in Friesland.
Uiterst zeldzame detectorvondst met de POPULAIRE Garrett ace 250 in FRIESLAND . Op een weiland in de omgeving van Joure is een uiterst zeldzame en kostbare zilveren 2 Talerstuk uit 1621 gevonden
van de stad Basel in Zwitserland. Deze munt is zo zeldzaam dat hij in de gewone reguliere munthandel
niet voorkomt, en daarom alleen al uniek. De laatst bekende die in 2005 op een veling is vekocht ,
bracht al bijna 14000 dollar op, en deze Friese vondst wijkt zelfs nog iets af in tekst, en is daardoor
misschien nog zeldzamer. Ook de kwaliteit van de munt is prima te noemen.
Voor foto's kijk op deze website : http://schatzoeken.org/
===========================================================
BlackAdder metaaldetectors is gevraagd om haar medewerking te verlenen aan de nieuwe tv-serie (De Hoofdprijs) van SBS 6.
Op dit moment zijn de opnames op het strand in Spanje afgerond.
Wij hebben ons eigen merk beschikbaar gesteld.
De serie is begin 2009 te zien op SBS 6,de aflevering met onze metaaldetectors is aflevering 5,in april 2009.
Deze aflevering is nu te zien op SBS,bij uitzending gemist.
===========================================================
De drie nieuwste Teknetics modellen!
Drie nieuwe, super lichte, digitale Teknetics modellen.
De Delta,Gamma en Omega,de zogenaamde titanium serie.
Bekijk de foto's en prijzen bij onze Teknetics metaaldetectors.
===========================================================
Veilig online betalen:
Over de beveiliging van orders in het besteltraject van Ideal webwinkels in Nederland.
Op het moment dat een klant iets bestelt of invult zit hij in de beveiligde omgeving van onze software (https:// en 1024 ssl) hij/zij kan dus veilig bestellen.
Verder,wil iemand iDEAL op zijn winkel,moet je aan veel eisen voldoen.
De eigenaar van de webwinkel moet een zakelijke rekening hebben en ingeschreven staan bij de K.V.K.
============================================================